Nobody Knows Anything
Fifteen years ago I was working at a PR firm. In the summer of '97, Steve Jobs had recently returned to Apple and the big news was that Microsoft had agreed to invest $150 million in Apple to help keep the company stable. I remember looking at the front page of a newspaper that had a picture of this moment on it: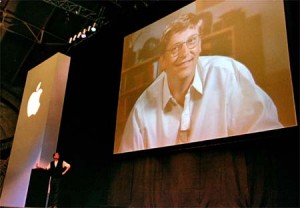 I said something to my boss like, "Well, that certainly sums things up," because at that it looked for all the world like Microsoft had dwarfed Apple.
I think of that picture a lot these days, most recently when I saw Josh Marshall from Talking Points Memo mention that for the first time in his site's history, more than half of the visitors were using something other than a Microsoft operating system.
The odds that the future we envision will resemble the actual future on more than a handful of points is so very, very small. Some things we just can't prepare for, and it seems like half the time we look back and say "We shoulda seen that coming."
Look at the table of contents for the issue of TIME Magazine that discussed that Apple/Microsoft deal. Welfare-to-work programs as a new development. Hey, what's up with the crazy El Nino weather? How does Wall Street feel about lower capital gains taxes? It seems familiar and alien at the same time.
And as I'm typing that, I'm trying to figure out how to get copies of 5-year-old magazines so my students can experience the first draft of recent history, but that's not where I was going with this . . . but I'm gonna have to come back to that.
My central point at the moment is, we put a lot of effort into understanding the world, and that's a good thing. But if anyone says they know for sure how it's all going to turn out, just show 'em that picture of Bill and Steve.